The headlines are hard to believe.  90 Year Old Man Cited for Feeding The Homeless.     Sounds crazy right?  Who would threaten to arrest someone for helping people who are hungry?  Very frustrated people trying to run a community.
Well, here's my take on the story.
I know Arnold Abbott.    I met him when I was chairman of Lifenet4Familes www.lifenet4familes.org  and he used our kitchen and facility to operate his charity Love Thy Neighbor  http://lovethyneighbor.org  He since moved on and operates elsewhere.    Arnold actually was at my first Pasta Dinner www.andyspastadinner.com and really saved the day as he help me get acquainted with the new commercial equipment we had at the our new kitchen.
Here is a picture of that day (he even let me wear his coat)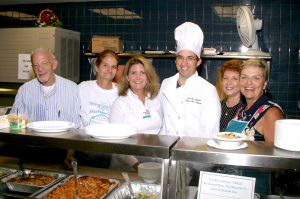 I consider Arnold a true advocate for the hungry.    We share our passion for making sure people who struggle with hunger can eat.    His work helping our hunger challenged population eat and learn the culinary trade truly makes him a hero.      And to his credit he pokes at authority challenging those to make our impoverished community less hungry.    But at the end of the day, once you have a communities attention, it doesn't help to keep poking.   You need to become part of the solution, not continue to be the issue.
And Arnold doesn't like rules or seem to understand that we all share our community and need to make sure we can work together to maximize it's use.  So here are a few points to consider.
Can I set up a soup kitchen in your living room?   No.    To set up a business (yes a non profit is a business) you need to have a proper venue, licenses, etc.    Sorry, you don't have the right to setup a soup kitchen wherever you want.
Is the Beach really the best place to feed our hungry?    Fort Lauderdale's economy depends on the beach.   We need it to be a place to showcase and utilize to it's highest and best use.   I promise you, we didn't build Lifenet's kitchen on the beach for a reason.  It's pricey real estate to be used for tourist activities and high end RE.   Arnold likes to feed there to poke at the establishment and frankly the rich.
 I know, sounds callous that I am perhaps suggesting we need to sweep our homeless under the proverbial rug?  No, not at all.    Our public beaches are for the public use.   No matter your economic circumstances.    But there are rules to their use and we all need to abide by them.   There isn't a loophole for charitable activities that allow you to  break the law or codes.      My point is there better ways to facilitate and attack hunger.
There are over 15 food pantries and soup kitchens in our county.    I know there is never really enough food, but we really have plenty of resources to help feed people.    We have really great programs to help this population.  If anything Arnold is distracting them and enabling them to avoid being helped by professionals.
It's not all about the food.    People who are hungry have other issues.    Just feeding them is not enough.    That is why the charities that serve this population have much more to offer these folks.    The idea is to feed them today, and get them to be self sufficient in the future.    Counseling, food stamps, mail, hair cuts, showers, placement (job and housing) are just some of the things these people need.   You can't give them that on the beach or in a perking lot.
I know some of these people will never be self sufficient.     We will forever have to feed and house some of them.    Again, let's get them closer to the proper  help.    The charities and resources are not on the beach.   In fact many of them have to be transported to the beach to get to this dinner.   Trust me, the hungry don't live east of Federal Hwy.
The city and county are really trying to deal with our hungry and homeless in an organized and compassionate manner.      Feeding on the beach in the street is not part of the plan.
Truthfully  Arnold's lightning rod technique and poking in the eye approach is something that established charities avoid like the plague.    We understand to feed, treat, aid, and give compassion to the hungry and homeless it takes a village.   That village includes businesses big and small, government, educational institutions, law and code enforcement, wealthy individuals, waterfront real estate owners, hotels, and volunteers.   Without donations, coordination and cooperation we will never turn the tide against poverty and hunger.
Arnold, do what you do best.   Advocate, teach, and be a role model.    Just work with everyone to find a better place to do it and then you can leverage the village to combat our common cause.
Andy
Andy Cagnetta owns and operates Transworld Business Advisors www.tworld.com. He joined the company as a sales associate and later purchased it. Transworld is an international franchise business and franchise brokerage, with thousands of businesses for sale and franchisees in the United States and Internationally.  He has run an annual dinner www.andyspastadinner.com to help feed the hungry of Broward County for 13 years.