I hate to admit it.   But the idiom "the squeaky wheel gets the grease" is true in negotiations.      I have seen it work over and over again in practice.  It is a form of "the flinch", as it creates discomfort in the opponent thereby winning the negotiation through pure intimidation, threat, or inflicting emotional or actual pain (think ear pain…someone being loud, no violence please).
As I watch negotiation tactics in practice, this one often works well.    Case in point.   I was in Macy's once and someone was at the checkout creating a fuss…let me rephrase…this person was shouting like she was going to burn down the place.     Security, managers, and the sales associate surrounded her and through some terse, but very quick negotiations, she got what she wanted.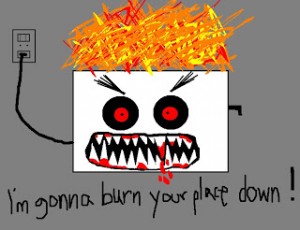 Now, it doesn't have to be at that level.    Squeaky wheeling can be done professionally or gently.    Once a family member of mine was returning a toaster (I think) to a department store.    He asked for his money back and the customer service associate informed him he could only get store credit or an exchange.     He stated he understood, but if he didn't get his money back and returned to his car where his wife was waiting, she would be in the store next….angry that he failed and ready to rumble, and he guaranteed that she would ABSOLUTELY get her money back.  And it would not be a pleasant conversation or experience like the one they were having now.      He promptly got his money back.
Obviously the squeaky wheel implementer can push too far and be rejected.  And that rejection could be from the negotiating table forever.    But if you feel you have certain leverage…time, effort, weak links, and other leverage points, the tactic can be quite effective.   Even for big money and very unusual  and unheard of  concessions.
It often works well when it is out of character.   Say you are a regular customer of a business and something goes wrong.   If you implement a flinch worthy squeaky wheel tirade it can quickly deliver your intended goal.
Again, I don't really recommend this tactic for everyday use.  But in a pinch or when it is extremely important, it can serve you well.
So if you do it.    Be as professional as you can, be loud, be direct, have a goal, and inflict a barrage of squeaky!   Then you can thank and apologize later once you get what you want.
Andy Cagnetta owns and operates Transworld Business Advisors.  He joined the company as a sales associate and later purchased it. Transworld is an international franchise business and franchise brokerage, with thousands of businesses for sale and franchisees in the United States and Internationally.