Why Give and Get Involved?   
A quick disclaimer: I am not here to preach guilt or scold you into service. Many of you have given or currently serve your country or community. I applaud you. I am simply here to remind or guide seasoned veterans, or help rookies who seek to get involved.
We all give back for different reasons. I was brought up to help others (thanks Mom and Dad). I also believe in Karma (i.e. if you help others you will be well treated in the end).  I enjoy solving problems and being a part of the solution. Shouldn't we all leave this flying space rock a tad better than we found it?
I have to admit, I also feel a tad guilty being a capitalist pig all day long. Let's balance the karma-tic scales by supporting those who may be less fortunate, uneducated or sick and therefore left behind.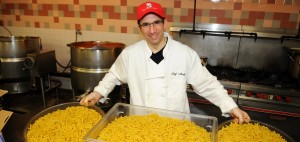 Then why should you give?
Because the charities need you! There are many worthy organizations beyond your family and business that need your time, expertise and/or your money. The charities that serve the military, your church and or a national or local organization need people like you.  And it doesn't take a lot of time, effort or money to make a difference!
They need your time- supporting food drives, driving car pools, leading volunteers and/or charity events.
They need your expertise- Every good business leader can sell tickets, ask for donations and recruit other business leaders.  You could donate your expertise to run an event or even day to day operations.
They need your money- No doubt everyone is approached to give, but let me suggest you take some advertising dollars and support a special event or fund annually. You can also help by recruiting others to help raise money along with you.
It can be extremely beneficial for your career. It lends credibility to your name and business. It can also result in long-term friendships and business contacts.
How can you give?
You can start with a small charity by volunteering for a committee, or getting involved in a special event. These could lead to being on a charity's Board of Directors.
Just do it! Pick a charity or cause that is close to your heart. Just do something now!!!
And, it's OK to promote your business! Getting involved should be good for you, your business, the charity you choose to support and of course, those it serves.
I guarantee your charitable work will lead to great feelings, higher self worth, increased community exposure and perhaps many great new clients.
Andy Cagnetta owns and operates Transworld Business Advisors.  He joined the company as a sales associate and later purchased it. Transworld is an international franchise business and franchise brokerage, with thousands of businesses for sale and franchisees in the United States and Internationally.
He also hosts Andy's Family Pasta Dinner Annually.  http://www.andyspastadinner.com/